Music: Count Us In
Music: Count Us In
Music: Count Us In (MCUI) is Australia's biggest school initiative. In 2015, more than 550,000 students from over 2,100 schools participated nationwide. Music: Count Us In brings teachers, parents, students and the music industry together in celebration of music and music education. In 2016 we celebrate our 10th year! The program is a perfect fit for schools with an existing music program and for schools without one. We really do encourage all schools to get involved, including those who already deliver music to their students. Music: Count Us In exists to advocate for improved access to music education for all students across Australia. Raise your voice to help us! Can we count you in?
Join us on Celebration Day (Thursday 3 November) as all registered schools unite via this live stream to celebrate music and perform 'Let It Play' together – half a million kids all singing the same song, on the same day, at the same time. Our live stream will showcase our main event LIVE from the Sydney Opera House. It will include video packages, speeches and live music and will end with the singing of 'Let It Play'. Local times for the live stream are below: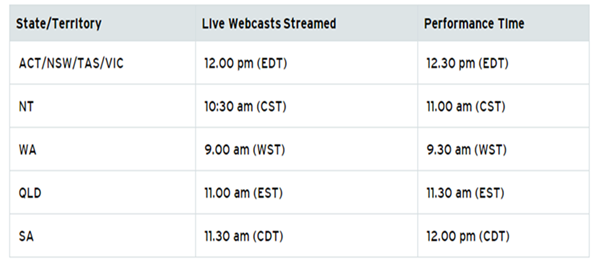 Music: Count Us In – How does it work?
MCUI starts and ends with the Program Song. The 2016 Program Song is 'Let It Play'. It was written by 4 students with the assistance of John Foreman OAM (Program Amabassador) and Jay Laga'aia (2016 Program Mentor). 'Let It Play' is now available and we welcome teachers to register their schools and gain access to our wide range of Educational Resources, including lesson plans, videos, arrangements for musical ensembles, Auslan and Braille resources and more. Registered teachers are also encouraged to make the most of various professional development opportunities offered by Music Australia and our education partners.